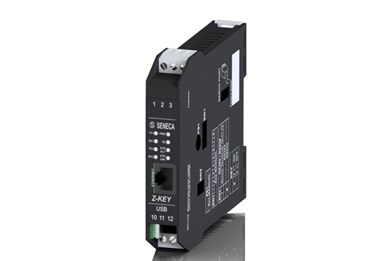 10/04/2015
Your serial and ethernet devices will always be reachable with Z-KEY
Bridge, Gateway and Serial Device Server
Z-KEY - INDUSTRIAL GATEWAY and SERIAL DEVICE SERVER  
Your serial and ethernet devices always reachable with Z-KEY.
 
Z-KEY is an embedded communication device with different functions like Bridge, Ethernet/ModBUS Gateway (from ModBUS TCP to ModBUS RTU) and serial device server. With 1 Fast Ethernet port (10/100 Mbps) and 2 serial ports (RS485, RS232/RS485), Z-KEY can be remotely configured through Excel template for variables tag exportation and management. This device has an embedded webserver which can be customizable with an Excel template via MicroSD. MicroSD, web server and FTP Server can be also used for upgrading firmware. 
 
The configuration can be guided with different softwares:  
SESC (Seneca Ethernet to Serial Connection)
SDD (Seneca Discovery Device) 
EASY Z-KEY for the first IP configuration with a PC
 
 
Operation mode - Bridge ModBUS TCP-IP ↔ ModBUS RTU  
 
Z-KEY, configured as Bridge, can support a virtually unlimited number of tags and can manage the simultaneous access of up to 8 clients. Typical applications are: protocol conversion, network enlargement and interfacing to software such as SCADA or datalogger such as SENECA DATA RECORDER.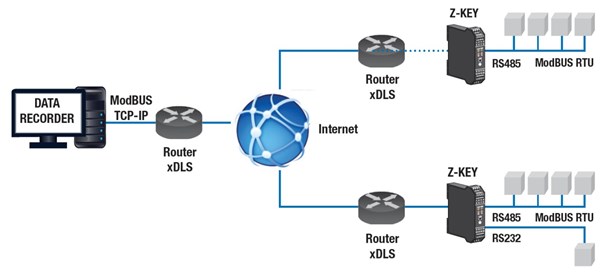 Fig.1 Example of Bridge connection mode
 
 
Operation mode - Gateway ModBUS TCP-IP ↔ ModBUS RTU  
 
Configured as Gateway, the device supports up to 8 simultaneous TCP/IP client accesses and up to 500 tags. The gateway can be easily configured through an excel template to match tags ↔ modbus registers, can support a fail safe mode in case of I/O faults. It is ideal for big plants applications and everywhere there is the need of an high number of Tags to be matched. In Gateway mode, Z-key can connetc PLCs equipped with modbus RTU master communication protocol only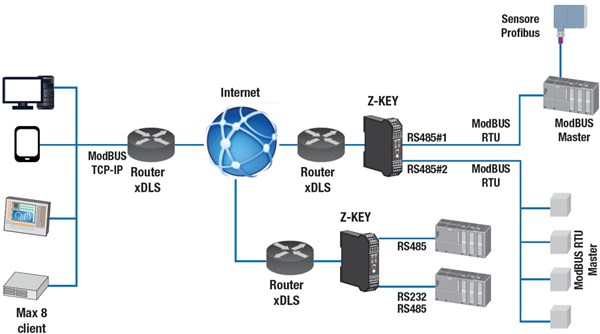 Fig.2 Example of Gateway ModBUS TCP-IP - ModBUS RTU, 2 Slave ports
 
 
Operation mode - Serial Device Server  
 
In this mode, Z-Key can enlarge the serial network working as Remote Virtual COM, being transparent to any serial protocol. In this mode, the device allows to connect devices not supporting the TCP/IP protocol to software PC (ethernet port).
 


  
 
Fig.3 Example of Serial Device Server connection