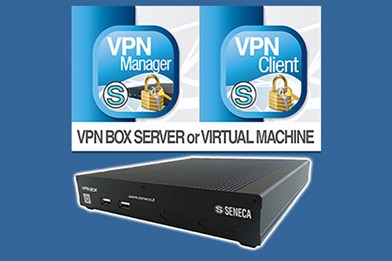 10/11/2015
SENECA introduces its own VPN connectivity server
SENECA introduces its own VPN connectivity server (both physical and virtual machine) for Z-PASS Industrial routers
SENECA VPN industrial routers series evolves and adds new features. With the upcoming release scheduled for the end of 2015, Z-PASS1 and Z-PASS2 will be able to ensure: 1) the functionality of the ModBUS Gateway that will support up to 32 simultaneous ModBUS TCP Client connections and the management of up to 2.000 tags and 2) the management for both the Single LAN mode (Remote) and Point-to-Point (remote diagnostics) remote access with the help of the new VPN Box systems.  
 
VPN BOX is an optimized server able to handle up to 496 devices in Point-to-Point mode with SSL and VPN security technology. VPN Box will be available both as a device/hardware appliance and as a software platform/Virtual Machine.  
 
VPN BOX is accompanied by two management software: VPN BOX Manager and VPN Client Communicator. The first is a configuration tool for VPN BOX Server while VPN Client Communicator manages the VPN communication and has to be installed on each Windows PC client for joining the network.