Data collection and remote assistance system for packaging machines
SENECA and ISAXIS collaborate to develop remote assistance solutions for packaging and food processing machines. Taking the best of their respective technologies, the partnership between the Italian companies has made it possible to make production and traceability more efficient, remotely control plants in real-time with maximum security, improve performance while safeguarding existing installations. ISAXIS is the system integrator of a leading packaging company specialized in end-of-line solutions, manufactures and markets a wide range of automatic machines worldwide. Flexibility, productivity and unsold goods zeroing are the main objectives sought with the new organizational structures.

THE SOLUTION - HARDWARE INFRASTRUCTURE
The solution with hardware SENECA is able to manage the data collection and remote control of about 250 packaging machines. Some of them are tele-managed by 200 Z-UMTS smart data loggers, another part by 50 Z-PASS2-S remote controllers. The latter device combines PLC functionality with remote access, web server, VPN and worldwide pentaband 3G+ modem/router with an integrated GPS receiver. The presence of the VPN BOX server allows to centralize the management and connection of SENECA devices in the field. VPN BOX properly configured in the company LAN network permits the remote devices in the field to connect to each other or to a PC and communicate using TCP/IP protocols. With VPN BOX it is possible to organize the VPN network in point-to-point mode so that maintainers can reach a single device and, optionally, its subnet to operate on it. Remote operations on a single machine such as PLC reprogramming, debugging and diagnostics are therefore possible. The system communication network is developed on VPN, 3G+, ADSL technologies.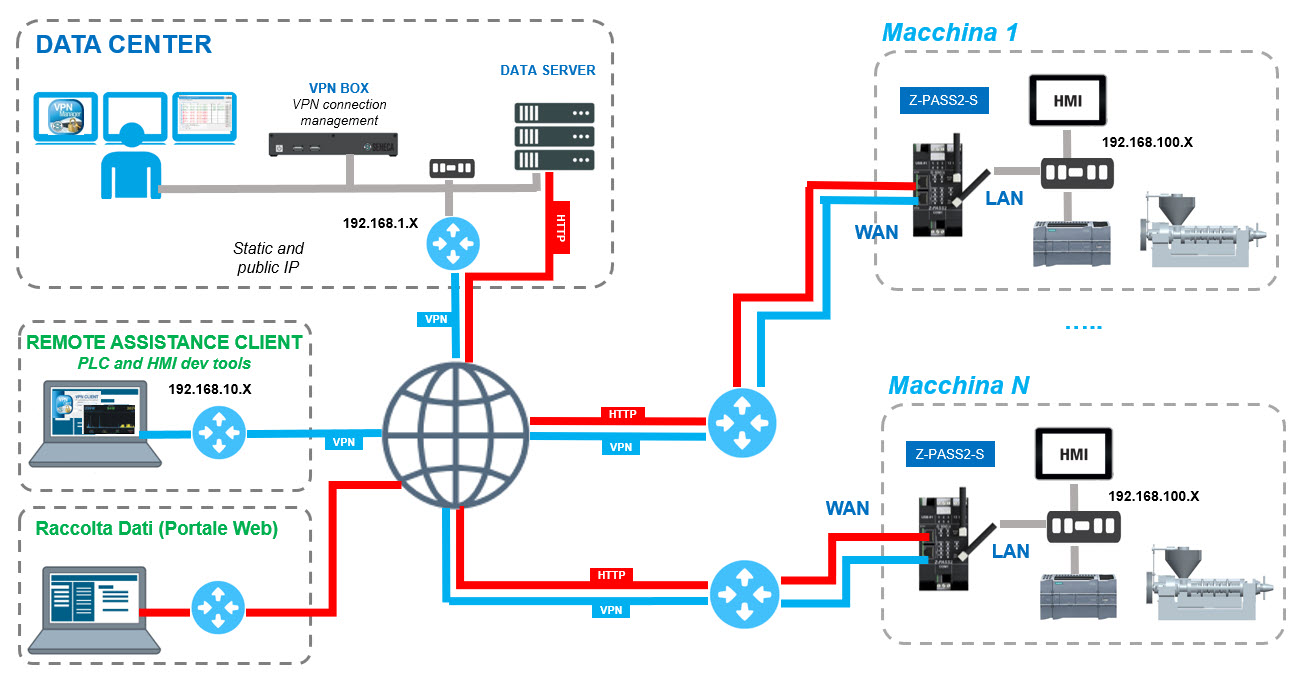 THE SOLUTION - CLOUD INFRASTRUCTURE
The ISAXIS software solution offers a remote control system through the use of its own cloud platform, able to read the data of individual machines equipped with SENECA devices and manage them remotely. The software platform unique on the market is equipped with specific controls and monitoring systems calibrated for the industrial world. The cloud platform SYNABOX® has advanced features and is designed to monitor an infinite number of servers and workstations. It is complete with all the necessary functions to achieve an optimal result and minimize investment and maintenance costs. The system works through APPs optimized for Android or Apple devices and via web browsers.

BENEFITS IN THE USE OF "LET'S" & "SYNABOX".
Advanced remote assistance systems make it possible to offer worldwide and in real-time preventive maintenance services for plants, thus reducing breakages and downtime to a minimum. This translates into increased gross operating margins and increased competitiveness in international markets. The desire to provide excellent service and diagnostics has led to the identification of LET'S as an immediate solution to configure and easy to use, with integrated data collection and logic control functions IEC 61131. The VPN infrastructure provided by SENECA, optimized for industrial communication, allows to remotely reach field devices in a similar way to a locally connected IP.