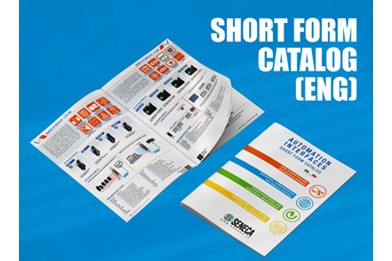 28/02/2022
SENECA presents the new Short form catalog 2022 (ENG)
Among the pioneers of interface and data acquisition systems in the industrial field, SENECA presents the new 2022 edition of its concise catalog in English. It's a new working tool designed to make easier the analysis, selection, and purchase planning phases for dealers, technical offices, engineering companies, plant manufacturers, and automation professionals all over the world.
The 'Short Form Catalog' is a compact, up-to-date, user-friendly volume in B5 format (17.6x25 cm) with 44 pages divided into four sections:
Data Acquisition and Automation Systems
Industrial Communication and Remote Control
Power monitoring and Electrical Measurement
Measurement and Control Panel Instrumentation
In the 34 product families presented you will find strengths, best-selling models, application examples, order codes, and a link to the website via Qr Code for more detailed information. Click on this link to download it in PDF format.
Enjoy your consultation!