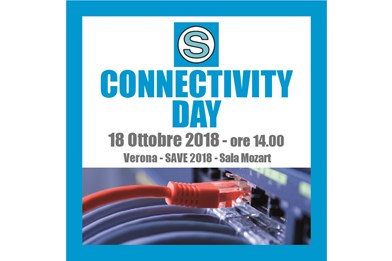 31/08/2018
SENECA Connectivity Day, Workshop a SAVE Verona 2018 - Subscribe now!
SENECA improves its remote assistance and remote control platform with solutions and systems increasingly inspired by the safety and productivity criteria of Industry 4.0 and the Internet of Things. The new appointment with the SENECA workshop and the LET'S technology is on October 18th, at 2.00 pm c/o Mozart Hall at Palaexpo Verona.
LET'S is the first IoT platform for machines and systems that reduces maintenance, automation and management costs, offering maximum reliability with an integrated connectivity service on three levels: remote access to machines, plants, programmable control, supervision and monitoring in the network.
The LET'S platform, based on a VPN BOX (physical or virtual) connectivity server module natively integrated in SENECA gateways and controllers, offers two operating modes:
Remote Control:

allows the configuration of a single WIDE LAN with all the remote LET'S devices installed in your systems as if they were connected on the same physical line (communication is Always on);
Remote Assistance: allows the management of endless contemporary connections and multi-level access utilities to your plants. Ideal solution to organize your teleservice network (communication is "On demand").
The FREE workshop, lasting a couple of hours, will be held by SENECA Service & Support. Within the workshop we will give space to a live DEMO of LET'S technology for plant supervision by Innovation System. The staff will be happy to answer any questions.
October 18th - 14.00 c/o Sala Mozart at Palaexpo Verona. 
For all the details follow the registration form