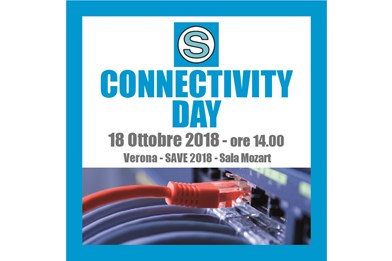 15/09/2016
SENECA Connectivity Day - Fiera SAVE Verona 2016 - Subscribe now
SENECA Connectivity Day in SAVE Verona 2016 exhibition. New appointment with SENECA workshops and LET'S technology, October 19 Verona. LET'S is a VPN-IoT connectivity platform for machines and systems remote access.
La principale novità introdotta su gateway, router e controllori della piattaforma LET'S riguarda la possibilità di configurare le due porte Ethernet integrate in modalità LAN (Local Area Network) / WAN (Wide Area Network) tramite web server o software di sistema Z-NET4. La nuova funzionalità permette di ottenere un isolamento tra la rete aziendale (WAN) e la rete industriale (LAN). Questo comporta evidenti vantaggi di flessibilità di engineering, sicurezza delle reti, protezione dati, accesso controllato degli utenti. La configurazione della funzione LAN/WAN è semplice e immediata attraverso l'indirizzo IP associato al web server.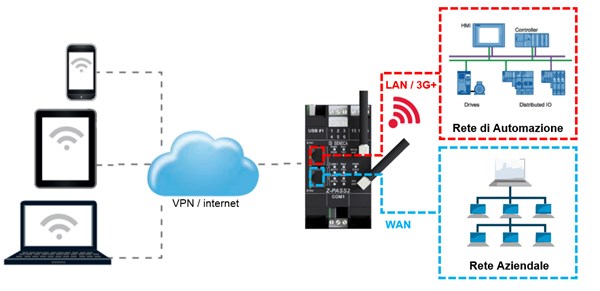 Esempio di collegamento LAN/WAN 3G+ con sottoreti isolate e ridondanza (ETH/3G+) della comunicazione. 
Altro tema al centro del workshop saranno anche i servizi Cloud e VPN per mettere in sicurezza i dati con il massimo della semplicità nella fruizione dei collegamenti remoti.
LET'S in breve
LET'S è la prima piattaforma VPN e IoT per macchine e impianti che abbatte i costi di manutenzione, automazione e gestione, offrendo un servizio di connettività integrato su tre livelli: accesso remoto a macchine impianti, controllo programmabile, supervisione e monitoraggio in rete. Con al centro dell'architettura il modulo server VPN BOX, LET'S supporta fino a 496 dispositivi in modalità telecontrollo single LAN (comunicazione always on) o teleassistenza point-to-point (comunicazione on demand). Una delle principali innovazioni di LET'S consiste nell'integrare le funzioni di accesso remoto con quelle di automazione programmabile grazie ai controllori Seneca su base IEC 61131 in grado di supportare pienamente la tecnologia VPN.