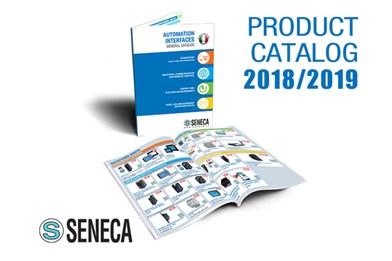 24/10/2018
Available for download the latest version of the Product Catalog 2018
The SENECA Product Catalog "Automation Interfaces" 2018 is now online. In this update the pages have gone from 204 to 212 for a total of more than 600 article codes, 4 product lines and 33 product categories. 22 new products have been added compared to the 2017 edition and more than 40 are affected by changes and technical improvements.
The main updates concerned the section "INDUSTRIAL COMMUNICATION" with a greater emphasis on IoT/Industry 4.0 connectivity features and with the introduction of 3 new products: B-ALARM (remote alarm unit), RTU-LP (low power remote control equipment), R-KEY-LT (industrial gateway entry level). Several product improvements have affected the chapters on remote assistance platforms, advanced dataloggers and radio modules. More contained are the new features in the "AUTOMATION", "ENERGY" and "INSTRUMENTATION" sections.
A section dedicated to SENECA iOS / Android apps for programmable products. From an editorial point of view, the volume is characterized by a modern and personal style, enriched by many infographics, classification of accessories, management software and the drafting of more than 130 application diagrams. The catalogue is available in Italian and English. It is possible to download it from the documentation section or write a request via email about the paper bound format to sales@seneca.it.