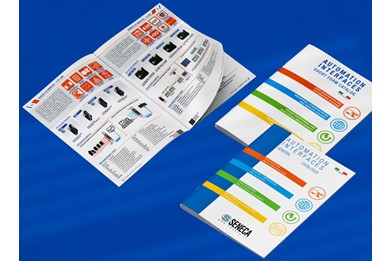 18/03/2022
SENECA celebrates 35 years with 2 new publications
To celebrate 35 years since its foundation, SENECA publishes the new general catalog 2022 in the English language for the foreign market. With more than 700 part numbers, 240 pages, more than 160 diagrams, and 4 product lines, SENECA illustrates the whole range of products focused on signal processing: from data acquisition to remote control, from energy efficiency to panel instrumentation.
SENECA General Catalogue is structured in 36 chapters, each one dedicated to a specific product family. It's an easy and quick reference volume, where the reader's attention is guided through product pictures, application and connection examples, comparative tables, codes list, and detailed technical information. For each product family, general technical characteristics, key benefits, accessories, approvals, and conformity standards are highlighted.
New products 2022
In this new catalog, SENECA has introduced many new features that, in addition to the "historical" articles, enrich the entire offer. In particular, we point out the new modules Profinet IO, RTU, and datalogger with 4G/LTE modem/router, the enlargement of the range of network analyzers with the new Series R203 (dual Ethernet) and T203PM (direct current/energy measurement), the industrial gateways now reached 15 models based on different communication technologies (Ethernet, M-BUS, Profinet, Wi-Fi, IIoT protocols), the modernization of radio systems and many other innovations.
Although the crisis in raw materials and energy prices inevitably affects our company, making the availability of some products in the catalog problematic, our commitment to guarantee continuity of supply and customer support remains unchanged.
The compact version (English lang.)
Next to the complete catalog, SENECA offers to its customers a more compact and usable publication (17,5x21 cm) of only 48 pages where is condensed the entire standard production thanks to an innovative format for each product category that includes bestsellers, application diagrams, general highlights, order codes and QR code to access online to further information. This publication maintains the same classifications as the larger catalog while facilitating speed of search and handling.
The volumes are available in electronic format at these links