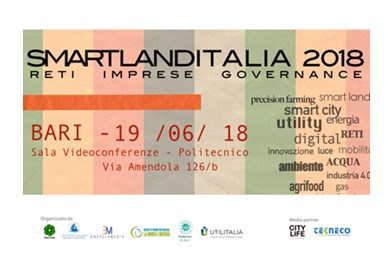 15/06/2018
We will participate in the event Smart Land Italy 2018 c/o Politecnico di Bari
Bari, 19th June 2018 c/o Rectorate of Politecnico in Bari, Videoconference Room - via Amendola, 126/b Our intervention will focus on the role of industrial data and collaboration with system integrators in territorial management.
In the process of evolution towards Industria 4.0, utilities are involved in the first place for their rich equipment of sensors and devices located on the territory: from smart meters of energy distribution networks, from traffic control to urban waste collection systems able to communicate with vehicles, up to public lighting infrastructure, district heating and consumption monitoring managed with energy efficiency systems.
In these areas SENECA has developed solutions of excellence dedicated to data collection, alarm management, remote control, remote assistance and energy saving, so as to become one of the few Italian manufacturers to play a leading role in the sector. Through the use of emerging technological platforms (cloud, VPN, IoT, M2M), SENECA equipment and systems allow users and Utilities to rationalise resources and monitor plants in a simple and cost-effective way.
In other words, with the fourth industrial revolution, more value is created beyond the boundaries of the plant. Value is achieved by acquiring, exchanging and sharing data through reliable communication systems. Another fundamental aspect for SENECA in an increasingly difficult and competitive market is to facilitate the meeting with local system integrators for the development of innovative case histories.
The event, dedicated to the operators of the sector, is free of charge upon registration to this link