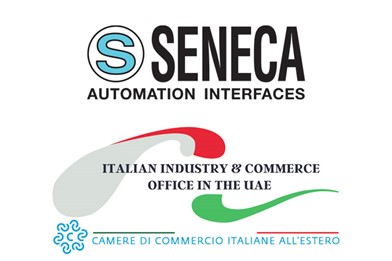 06.06.2023
SENECA opens two representative offices in the UAE
SENECA is pleased to announce the opening of two representative offices hosted at the Italian Chamber of Commerce in Dubai and Abu Dhabi. The aim is to create new and concrete business opportunities, expanding visibility and the commercial sphere of action in the Middle East area that includes UAE, Bahrain, Kuwait, Saudi Arabia, Oman, and Lebanon.
With more than 2.500 active customers in more than 70 countries around the world, SENECA is going to preside in a direction from one of the fastest-growing markets in Automation, Energy, and Industrial Technologies.
The concept, coordinated by the Italian Chamber of Commerce in the UAE, also includes the creation of a digital B2B platform able to convey the excellence and quality of SENECA's 100% Made in Italy products in the Gulf area. At the same time, full customer support will be guaranteed on-site in terms of product documentation and certification, customs activities, and technical, commercial, and marketing support.
Dubai Office
48 Burj Gate, 10th Floor, room #1001, Downtown, Dubai (UAE)
Abu Dhabi Office
7th Floor - CI Tower - Khalidiya Area - Abu Dhabi
Official Representative
Lorenza Pautasso
projects@iicuae.com
+971.4.321 62 60