Meat monitoring goes smart with SENECA and Tecnosystem technologies
In Villafranca Padovana, a town of 10,000 souls in the heart of the Veneto region where no less than 873 companies operate, F.lli Guerriero, a family-run company founded by Giuseppe and Bernardina, was established in 1989.
Mr. Giuseppe initially managed a small pig farm with the help of his wife and, during the winter period, providing customers with a complete service, slaughtering their own animals and producing their meat typical Veneto traditional cold cuts.
Respect for animal welfare, absolute search for quality, seriousness, passion for the territory, and transparency are the Guerriero family's core values.
With a turnover of more than 40 million, F.lli Guerriero has increased its production capacity by equipping itself with modern production lines, state-of-the-art storage cells, and a clean room with an airflow of 6000 mc/h, for slicing 'Amor Veneto' products of excellence. In addition to the slaughterhouse and charcuterie, the group also owns the largest ham factory in the Prosciutto Veneto PDO circuit. Today the company is authorized to export to Japan, Canada, Hong Kong, Ecuador, and Brazil.
The continuous effort to innovate and expand its presence on the market has led F.lli Guerriero to seek and find in the company Tecnosystem, based in Camisano Vicentino, the ideal technological partner to optimize its production process related to meat cooling and preservation.

F.lli Guerriero factory in Villafranca Padovana
Innovation and objectives
The collaboration between Tecnosystem and F.lli Guerriero came about thanks to an initial monitoring system called TES102 (Tutor Energy System), specifically designed and built for the part of the production process linked to the cooling and maintenance of meat (cold rooms). The system was created with the objective of acquiring the operation of the cold rooms to prevent any production stoppages.
Subsequently, Tecnosystem's innovative monitoring system was extended and applied to other production areas, introducing implementations to improve plant operation, increase energy efficiency, and manage alarming to prevent plant downtime.
Tecnosystem's drive for innovation touches on the research, development, and implementation of both hardware and software solutions. These solutions are based on an excellent knowledge of installations, with the application of skills in topics such as thermomechanics, telecommunications, networks, automation, and supervision systems, up to the latest IoT / 4.0 digital services. A strategic sector for Tecnosytem is that of energy efficiency, and also in the case of the technical collaboration with F.lli Guerriero, Tecnosystem has created an energy asset management platform perfectly integrated with the monitoring and automation of production and storage environments.
The control system realized by Tecnosystem to monitor existing plants is based on a carefully customized SCADA platform, implemented at Tecnosystem's headquarters to control and command various devices.
Electronics from Seneca and other manufacturers manage key parts of the plant such as:
Cold rooms for processing and maintaining meat;
Drying/maturing cells;
Thermal power plant and compressor room;
Photovoltaic inverters;
Cooking Ovens;
Refrigeration plants.
The benefits of the implemented system derive from management savings within the plant combined with a considerable improvement in product quality. In fact, the remote monitoring carried out by Tecnosystem H24/7 guarantees continuity of service of the plants even when they are not manned, historicized data for new improvement objectives, and analysis of any "incidents" occurring during work activities with the implementation of specific actions.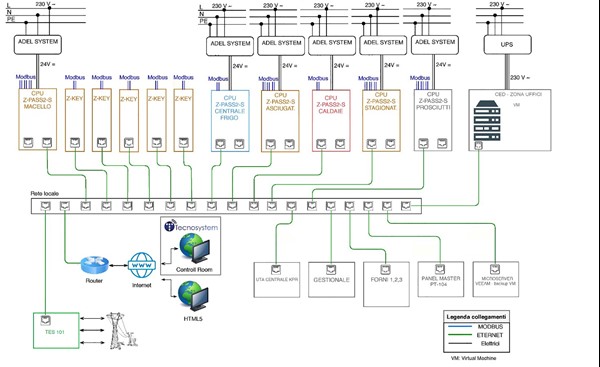 The architecture of the monitoring system of the F.lli Guerriero factory realized by Tecnosytem
The technical solution 
The proposed technical solution involves Seneca communication, control, and data acquisition hardware, Copa-Data's Zenon SCADA, Modbus RTU / TCP-IP field bus, and Tecnosystem's specially developed and patented TES101 monitoring system to detect anomalies in the electrical network.
The 6 Seneca Z-PASS2-S remote controllers operate as Ethernet/4G logical units and routers, acquiring information from the strategic areas of the plant (Slaughtering Laboratory, Ham Processing, Refrigeration Units serving Rooms and Cold Rooms, Salumificio, Steam Generators, Compressed Air, Drying and Seasoning Rooms), managing status transitions, plant measurements, energy consumption and sending data and alarm signals to the Servers present at Tecnosystem's headquarters.
The Z-PASS2-S units also allow remote diagnostics and maintenance operations on the systems in total integration with the Z-KEY industrial gateways dedicated to communication with the individual cold rooms.
Z-PASS2-S also offers the Single LAN remote access function to the plants, i.e. guaranteeing both simultaneous and always-on connection to all sites and communication between sub-networks belonging to the VPN based on the Seneca VPN BOX server module. The multi-functionality of Z-PASS2-S enables a further level of data management. Via 4G LTE/Ethernet, plant data can be transmitted via a GSM router to the Tecnosystem Server Room.
Through the automation system and the communication network designed by Tecnosystem, not only data on the plant's energy efficiency are transferred, but also measurements of temperature and humidity, working pressure, boilers, and protections.
At the supervision level, the aim was to create a 'tailor-made' system capable of monitoring plant and machinery, with alarm signaling and remote maintenance, reports ready for the customer on a weekly basis, scheduling of intervention plans, and asset management functions. The Zenon-Tecnosystem binomial, therefore, guarantees the TES102 product/service, centralized monitoring at Tecnosystem Servers of energy readings, and control of plant operating status, allowing real-time identification of system operating conditions and promptly alerting the appropriate personnel in the event of faults or anomalies.
In addition to managing system integration, supervision, and remote monitoring, Tecnosystem has implemented TES101, a smart electricity monitoring system that can intervene promptly in the event of any network failures or atmospheric events that could damage machinery. In this way it is also possible to protect PC Servers, Data Centres, IT Networks, and any device connected to the electrical network, limiting potential damage and prolonged production stoppages.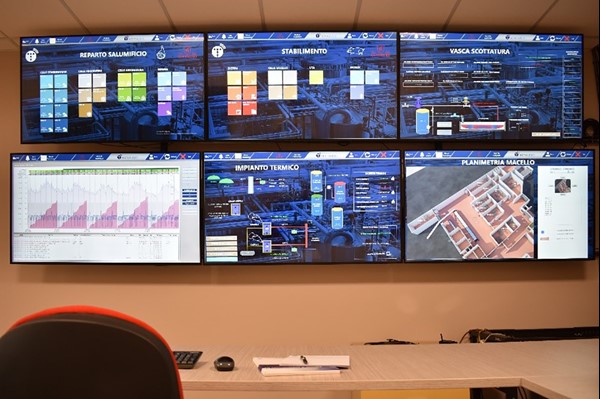 Control Room with TES102 application, implemented with Zenon SCADA platform for monitoring Tecnosystem customers
Results and benefits
25% reduction in energy costs related to cold room operation;
Monitoring of temperatures, operating states, and any anomalies in the cold rooms;
Optimization of switch-on and switch-off cycles with lower consumption and less wear on compressors;
The transition from cyclic preventive maintenance on a weekly basis to corrective maintenance at fault and predictive maintenance capable of understanding if a fault is about to occur and taking timely action
Automatic and remote monitoring of data with reduced personnel intervention costs;
Continuity of service guaranteed by targeted interventions to avoid inefficiencies and economic losses;
Monitoring of alarm thresholds on quantities relating to the correct operation of the plant to minimize intervention times;
Operation of cold rooms at best efficiency and at times of reduced energy tariff;
Recording of all connection operations and archiving of historical data by the supervisory system.