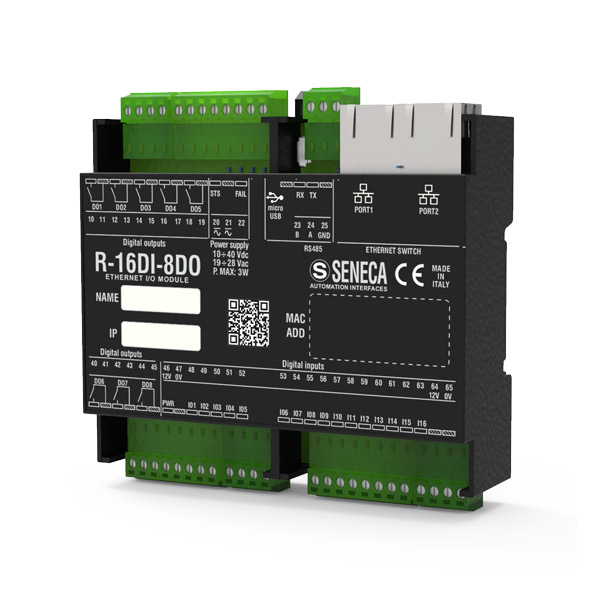 Images/schemes proposed are to be considered as indicative and non-binding
R-16DI-8DO-P
Profinet IO module with 16 digital inputs / 8 digital relay outputs
R-16DI-8DO-P is a mixed digital module with dual 10/100 Mbps Ethernet ports. It is designed for flexible wiring needs, small installation space, high I/O density applications with built-in Ethernet networking. R-16DI-8DO-P has 16 PNP/NPN digital inputs and 8 digital relay outputs with a maximum 30 V / 1 A range. The module has insulation between inputs, outputs and the remaining low voltage circuits of 1,500 Vac. The configuration can be made through CODESYS softPLC software and TiA Portal/Simatic Step7 design environment. R-16DI-8DO-P supports PROFINET IO communication and can be connected in Ethernet daisy chain mode with fault-bypass to ensure Ethernet connection even in case of failure of a module in the chain.
ATTENTION! special price until 31/05/2021!
Please contact our sales office for more information.

Schreiben Sie uns für
Unterstützung & Informationen
---