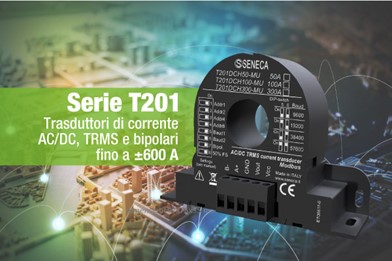 14.03.2023
T201 Current Transducers Selection Guide. Download now!
SENECA is pleased to present the new publication 'T201 Series - Current Transducers', a guide to choosing the right instrument to measure and convert AC/DC current values into a standard analogue signal.
The SENECA proposal focuses on innovative current transducers with output in Volts or milliAmps (also available with loop power supply, ModBUS interface, and digital contacts to manage alarms). This product family provides current measurements that can be directly acquired by PLCs, indicators, and acquisition and control systems, without separating transducers and wiring for auxiliary power.
The first part of the guide contains several tables for selecting the different models available and for dimensioning the conductors (cables and insulated busbars) according to IEC 60364-5-52 and DIN 43671 standards.
The second part contains technical data and some application scenarios.
All that remains is to wish you good reading!