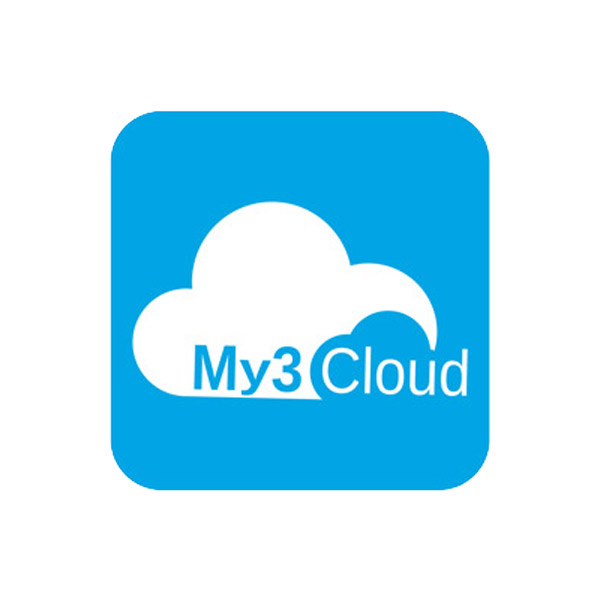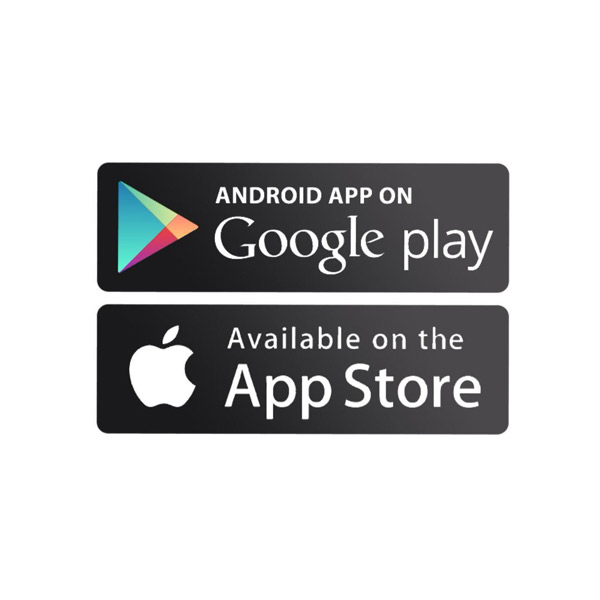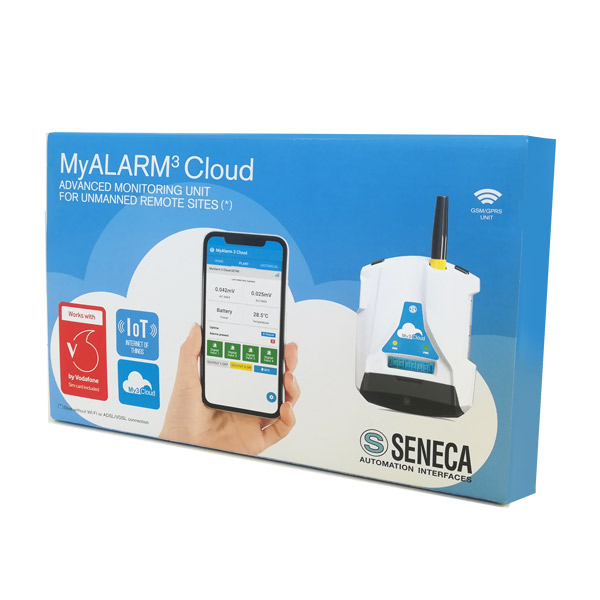 Images/schemes proposed are to be considered as indicative and non-binding
Produit

MyALARM3 Cloud

Versions répertoriées:

MY3CLOUD-R-0-0-G, MY3CL-R-0-0-G, MY3CLOUD-R-0-G-G, MY3CL-R-0-G-G
The smart control and monitoring solution for installations, applications and unattended sites
The family of remote alarm units reaches the third generation! After 10 years since the first MyALARM model, we present an innovative device complete with a mobile control app in
10 languages
. MyAlarm3 Cloud is a GSM/GPRS intelligent control unit and a mobile app for remote control of houses, plants, machinery, and unmanned installations.
The
mobile app
offers the main functions useful for monitoring through immediate consultation and practical use from iOS and Android mobile devices, allowing the management of alarms (in case of a blackout, digital contacts variation, analog inputs, and temperature thresholds overcoming), timed, impulsive and on/off commands (lights, motors, gates, pumps, overhead doors, HVAC system contacts and twilight contacts), GPS (position notifications, virtual fence alarm).
The MyALARM3 Cloud system requires a data SIM or a voice/data SIM to activate and use the mandatory Cloud service.
SIM data: The product has a V-SIM Vodafone card to activate. Please follow the coupon inside the package for information on monthly costs, data traffic, and V-SIM activation. Alternatively, you can use a data or voice/data SIM card in your possession. SENECA Cloud Service: With the purchase of the product is included a usage fee of 12 months from the date of the first activation; at the end of the period you can renew the service at the cost of 24€/year (VAT excluded).
Prix catalogue à partir de:
370,00 €
Prix sur le canal de vente E-Commerce de:
351,50 €

Disponible en quantité limitée

Ecrivez-nous pour
Assistance & Informations
---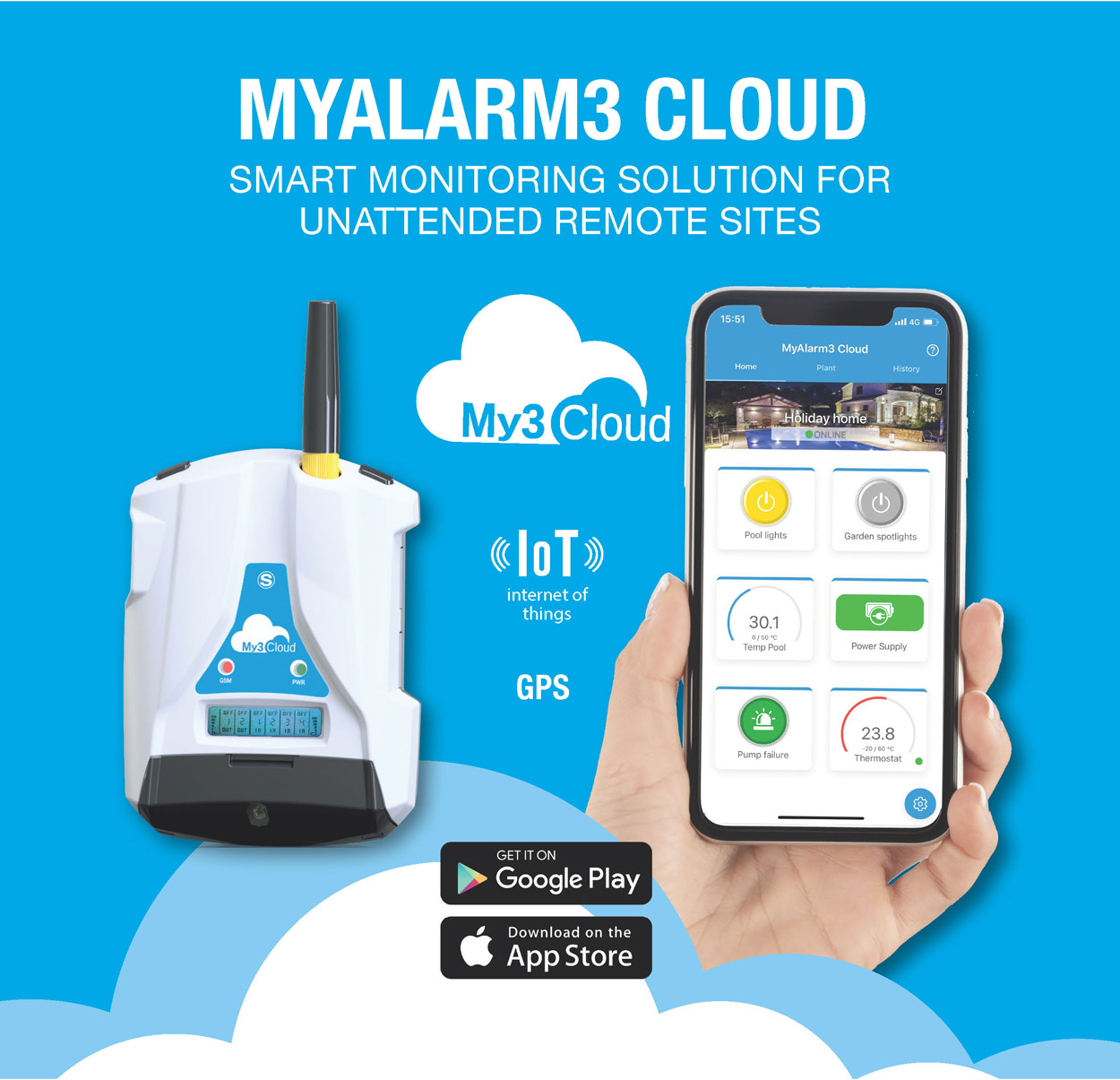 A compact and reliable ALL-in-ONE system for residential or industrial applications, in particular for automatic sending of data and alarms from unattended sites, in mobile conditions or in the absence of an internet line.

Why choose MyALARM3 Cloud?

- It is a robust, reliable and extremely versatile product
- It doesn't require advanced electronics skills
- It doesn't require installation of development environments/software
- Programming is extremely simple and is done via smartphone
- It is a product with Vodafone certified connectivity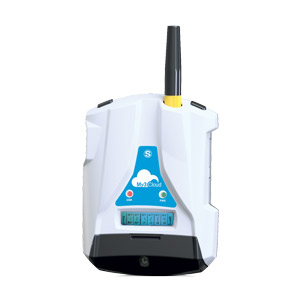 Intelligent control unit
Third generation GSM/GPRS remote control unit integrating 4 digital inputs, 2 analogue inputs, 2 digital outputs, LCD display, NTC temperature sensor, input for external NTC sensor, back-up battery, GPS module (optional).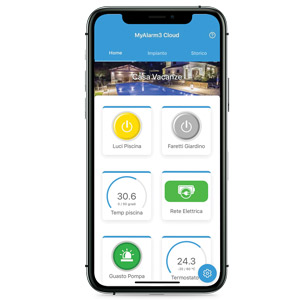 Free iOS / Android mobile app
Free multi-languages (10 languages) mobile app available from Apple or Android stores. This powerful app allows advanced system configuration in a simple and intuitive way. It integrates tutorials, manuals and online help.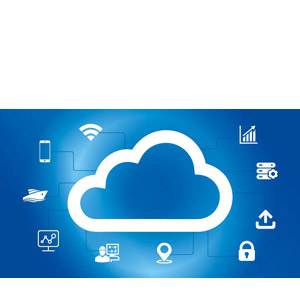 Cloud Service
The MyAlarm3 Cloud ecosystem uses a cloud service offered by SENECA. The service is included 12 months from product activation. At the end of which you can extend the duration at a cost of 24 € + VAT per year.

A concentrate of technology,
design and innovation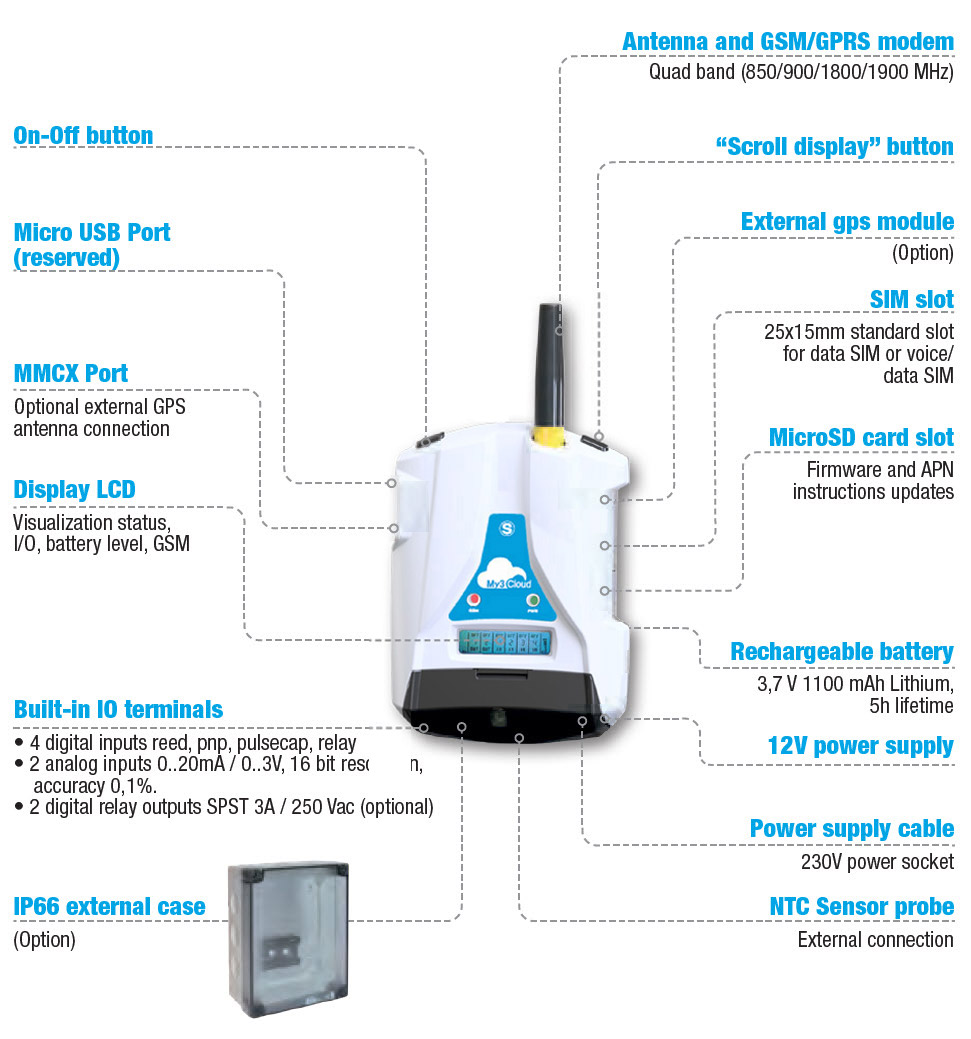 No software required!
Complete configuration via smartphone.
Up to 10 languages supported!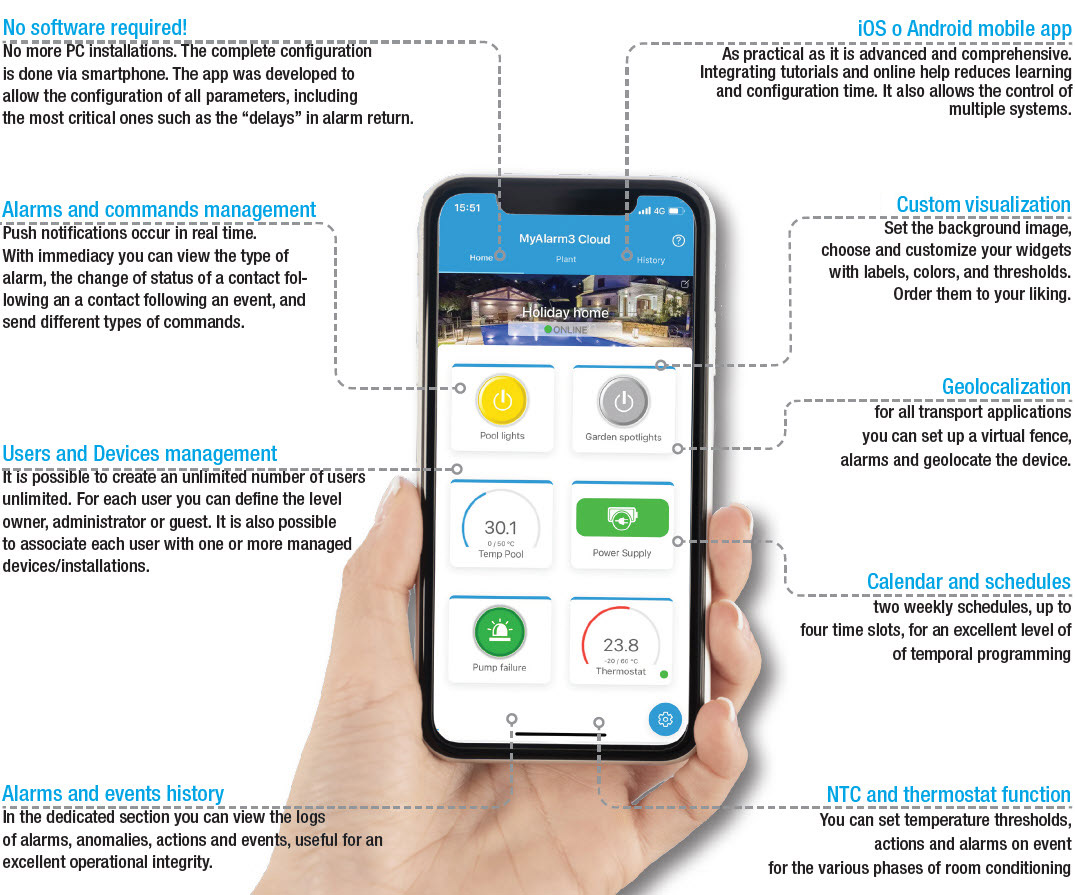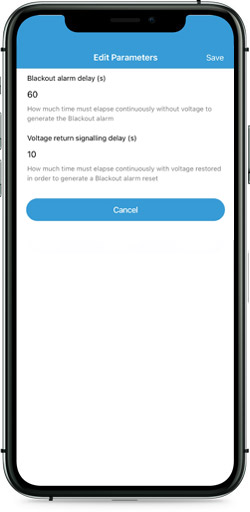 Advanced configuration
MyALARM3 Cloud app offers very high levels of parameterization customization. For example, it allows you to easily set the critical times for the system such as the blackout alarm delay and the delayed power return signal. The app also guides the user through the customization of widgets, image backgrounds and all interface parameters (language, header, widget shape, camera, tab sorting).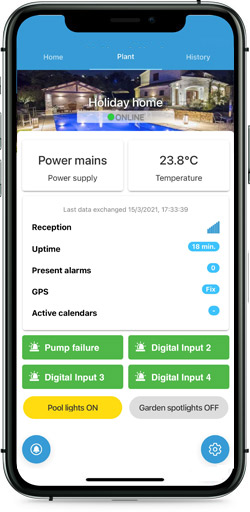 Alarms and Commands management
The range of alarms that can be managed in case of blackout, digital contact variations (and related counters), exceeding of analogue thresholds etc. is very wide. These variations correspond to the availability of on/off, timed and impulsive commands, for example for opening/closing motors, pumps, gates, overhead doors, lights, twilight contacts (dawn/dusk), temperature thresholds (HVAC systems).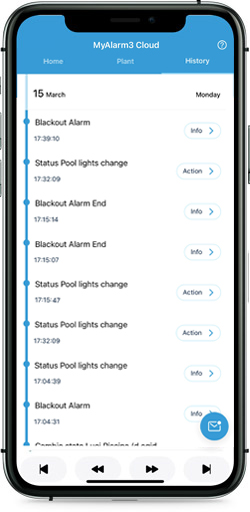 Alarms and events history
The application has a specific section for displaying the alarm and event log (statuses, alerts, errors, warnings) that can be easily filtered and consulted. Reports of offline devices and loading of updates are also provided. The availability of this data provides concrete analysis to monitor the installations and obtain a unified visualization of the operational integrity status.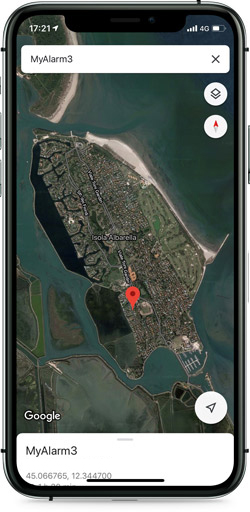 Geolocalization
Using the integrated GPS module (optional), the app makes it possible to receive geolocation notifications and manage alarms, such as exceeding the virtual fence. The control and localization of the system via GPS increases the level of security and expands the range of applications even in mobile conditions.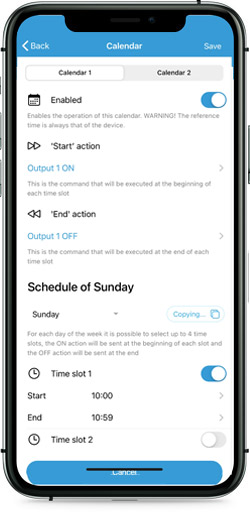 Calendar and schedule
Once the calendar is set and enabled, the app allows you to send commands at the beginning/end of the time slot, such as turning lights on or off at set times, with the availability of 2 weekly calendars that can be programmed up to 4 time slots).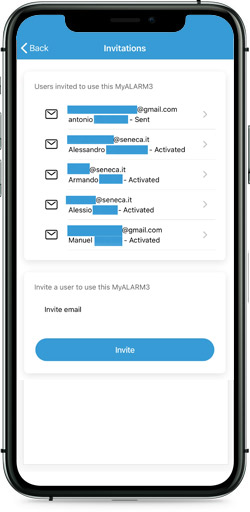 User and device management
In order to obtain the maximum flexibility of plant management, MyAlarm3 Cloud allows to connect more users (unlimited number) to the same plant with a multi-level access system: owner, administrator, user editor with access through a restricted area. The same instance of the app allows access to different plants.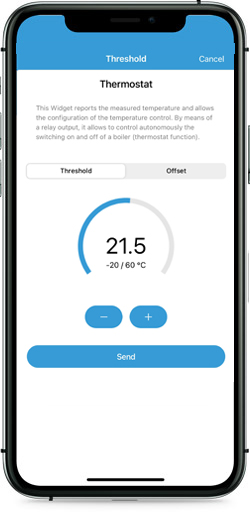 Thermostat function
The app allows you to set, modify and send temperature parameters and the alarm associated with exceeding the threshold value. MyALARM3 Cloud behaves in this way as an electronic thermostat to control the room temperature, during heating or air conditioning.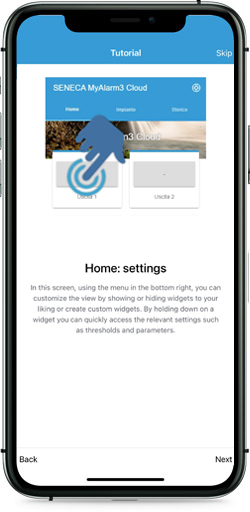 Tutorial e help online
The app provides system configuration instructions in graphical format, tutorials and step-by-step guides on managing, creating and customizing widgets, accessing history and system information. It also provides detailed online manuals that save learning time and reduce the risk of user errors.

One useful product for
building automation, industrial applications
and transport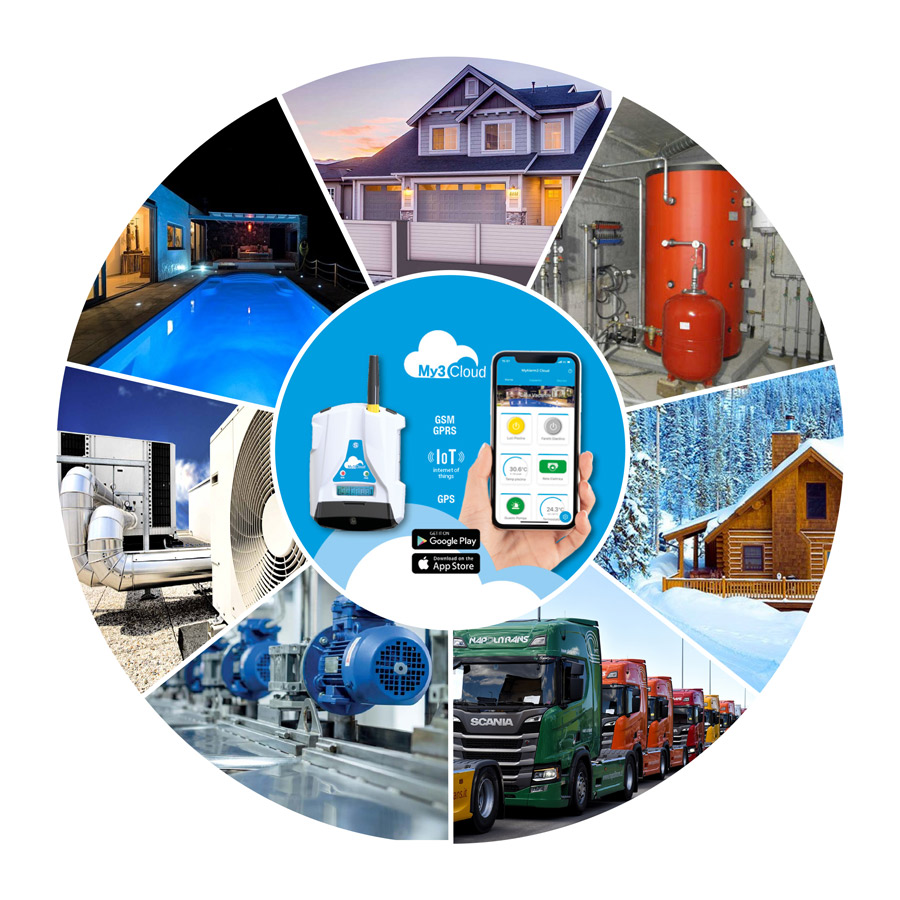 The applications are potentially endless! below are some examples.

- Electricians, maintainers, installers, professionals
who are looking for an easy to program, robust and reliable tool for their customers.
- Private users with a basic familiarity with electronics
who want to independently remotely control their equipment, lights, pumps, plants, etc...
TECHNICAL DATA
| | |
| --- | --- |
| Order code : | MY2G |
| Description: | MyALARM2 - GSM/GPRS datalogger, GPS version |
| Built-in Modem: | GSM / GPRS quadband |
| USB interface: | 2.0 mini B |
| Expandable Memory: | Slot Micro SD (up to 32 GB) |
| Built-in Memory: | Flash (2 MB) |
| Integrated temperature probe: | NTC |
| Digital Input: | N°4 channels |
| Counters: | N°4 (@32 bit, max 30 Hz) |
| Totalizers: | N°4 (@32 bit, max 30 Hz) |
| Digital Output: | N°2 SPST 3 A relay (option) |
| Analog Input: | N°2 channels (mA, V), 16 bi resolution |
| GPS sensor: | 42 channels receiver |
| Allarms: | virtual fence, speed limit |
| GPS tracking: | Google Maps |
| Power Supply: | Through USB cable or 230V AC power supply (both included) |
SHIPPING AND EXPORT INFORMATION
PRODUCT CODE
MY3CLOUD-R-0-0-G
GROSS WEIGHT

kg

0.46
ORIGIN
IT
CN (Combined Nomenclature)
85176200
ECCN
5A991
Manuels, prospectus
Tools
DESIGNS & CAD MODÈLES
Certifications
Accessoires
SENECA offices will be closed from 23 December to 7 January included. Business activities will resume regularly on Monday 8 January. To guarantee you a punctual shipment of products by Thursday 21 December (the last day of shipping), we kindly ask you to send any requests no later than Wednesday 20 December. Orders received from December 21st will be dispatched from January 8th. We wish you happy winter holidays!
Versions du produit

---
Accessoires

---