Smart Energy Monitoring. The innovative solution for your installations.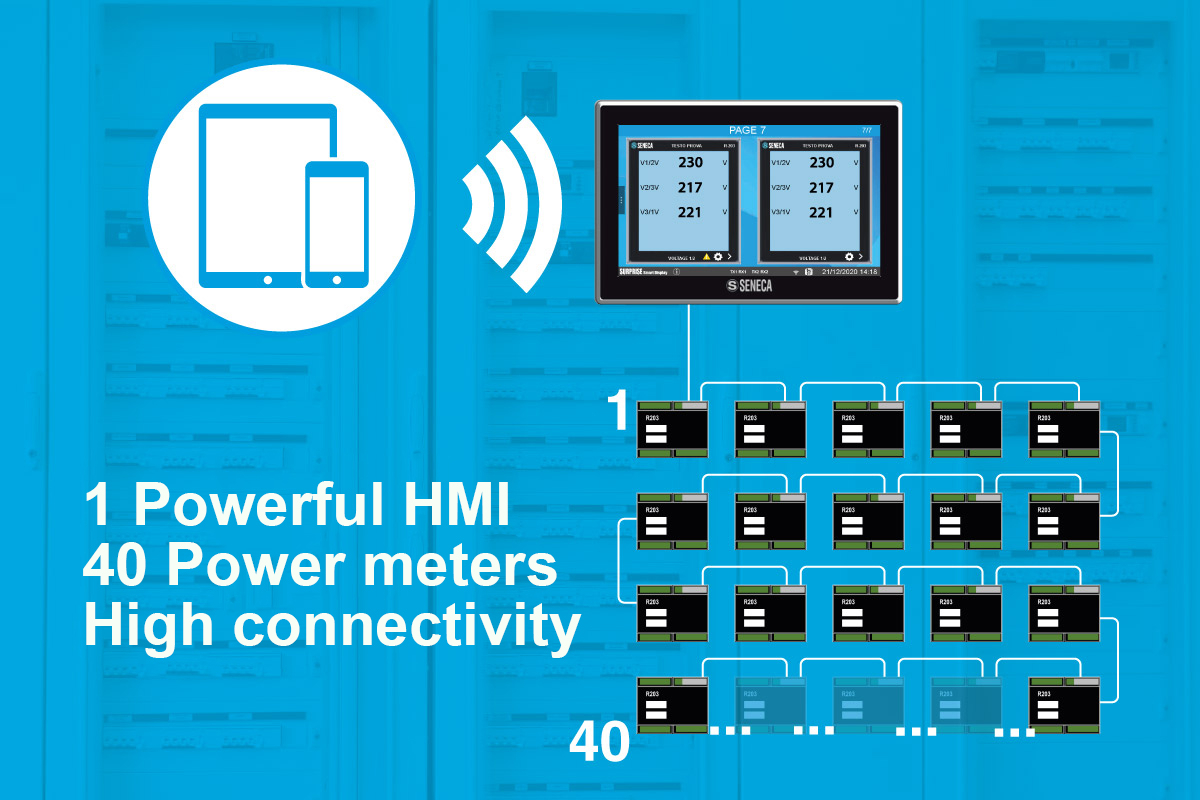 Monitoring systems allow a reduction of energy costs and consumption by an average of 15% and are able to reduce up to 5% of the overall electricity costs (Digital Energy Report published by Politecnico di Milano in February 2019). In this scenario, SENECA proposes an integrated system for the rationalization of power consumption and analysis. A completely innovative solution with multiple benefits designed using two latest generation products.
 
 
SURPRISE Smart Display (SSD)
R203

7" IoT HMI touchscreen with gateway, data logger, 
remote control features and built-in I/Os

3-phase Energy power meter, dual ethernet 
with universal input
One display for all power meters in the system

With a single SURPRISE Smart Display (SSD) installed on the panel, up to 40 power meters can be displayed and managed simultaneously. This powerful HMI, by means of dynamic pages and graphic widgets totally customizable, allows the visualization in a slideshow of 2 power meters per page.

 

Benefits:

real-time information on 7" LCD backlit colour display with high brightness
all information is immediate and on a single device
possibility to remote information on any client or control station, thanks to the "

Remote Display

" function. No client software is required, just an HTML5 web browser and connect to the SURPRISE Smart Display webserver.

 

No programming or development environment

No advanced skills or expensive development environments are required. The HMI integrates networked device scanning functions and auto-compilation of all parameters. A default configuration can be provided in a few touches.

 

Benefits:

Significantly reduced setup time
The configuration is simplified by HMI touch interface or "

Remote display

"
Ability to customize all labels
ability to set thresholds and actions in case of alarm in an intuitive and practical way

 

Maximum connectivity for Energy Management and IoT data logging applications

SURPRISE Smart Display guarantees high connectivity standards: all the values recorded by the power meter are available for SCADA systems, for local Remote Control and Teleassistance solutions, for Cloud solutions, and for backup storage.

 

Benefits:

Secure connections via VPN
Connectivity and high reliability of data transmitted via MQTT
HMI includes gateway, router, WI-FI router features.
Ability to export data via USB

 

SURPRISE Smart Display offers the possibility to display data on mobile devices via the internet or Wi-Fi acting as an access point or as a WIFI router. From the comfort of your mobile device, you can view information, send commands, export data, view graphical trends, and receive alarm notifications. 

 

Benefits:

Information at your fingertips
Sending commands remotely
Pre-analysis in case of anomalies and failures
Alarm management and reduction of costs/intervention times

 

 

Reduced maintenance time and costs

This solution allows savings that increase dramatically for installations with multiple R203 network analyzers. Thanks to its dual Ethernet ports with fault bypass technology, the R203 allows daisy-chain connections simplifying cabling and avoiding the purchase of expensive industrial switches. The R203 is the ideal solution for installations with multiple network analyzers.

 

Benefits:

Fault bypass technology minimizes cabling time and costs and keeps the electrical connection of the chain active even in the event of a module failure

 
For more information contact our commercial offices.