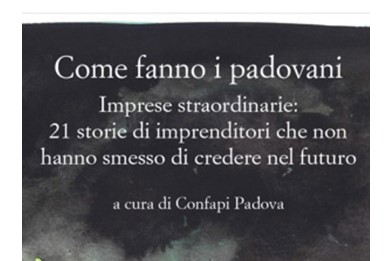 03/05/2021
SENECA among the 21 excellences of Padua Made in Italy!
In the book "Come fanno i padovani" (How Padua people do it), edited by Confapi Padova, there is also SENECA. The ambitious and well-edited editorial project interprets the values, practices and inspiration of Made in Italy, recounting its peculiarities and ingenuity through 21 interviews with entrepreneurs active on the Paduan, Italian and international scene. In recent decades, representative figures of an entrepreneurial class, working hard side by side with its employees, have enhanced its brand and its products on global markets.
In the chapter dedicated to SENECA emerge the passion and conviction that have supported the exceptional growth of SENECA in a context far from easy. Its founder engineer Pierluigi Egidi recalls: "When we started out, dealing with electronics in Italy was madness, no one was doing it. We knew that, but we also knew that we would fill a gap and make a name for ourselves if we succeeded. 35 years after its foundation, we can say that the mission has been successful. SENECA continues to thrive as a leading player in technological innovation.
Link to the publisher https://www.cleup.it/product/22432630/come-fanno-i-padovani